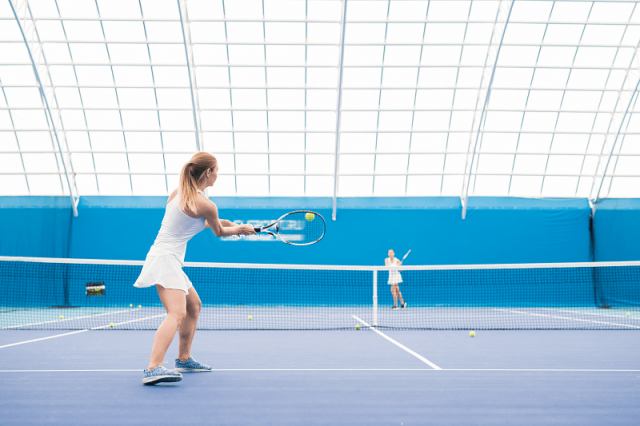 I decided to take up playing tennis again in September 2017 (after a gap of about 20 years).
I absolutely love the sport, and enjoy trying to better my game, get fit and have fun in the process.
My only regret is that I didn't take this sport more seriously as a teenager and into my early 20s.
Still it's never too late to take it up again and see what level I can reach over the next few years.
There are many reasons why tennis is a great sport to play, but there are also some downsides, particularly on the toll it can take on your body if you are not in the best shape physically.
I thought for this blog post, I would look at the sport in more detail, as well as the pros and cons of playing it.
What Are The Benefits Of Playing Tennis?
Tennis is not only a lot of fun, but it also has a number of health benefits, which makes it a great option for anyone who is looking for an enjoyable way to improve their health and get more exercise during the day.
There are actually a few reasons that tennis is so good for you.
The first reason has to do with the interval training that tennis provides and all of the health benefits that this offers.
Tennis is a great workout because it increases your aerobic capacities. When playing tennis, you will cause your heart to beat harder and faster, which is the best way to strengthen this important organ.
Playing tennis also improves your metabolic function, making it easier for you to lose weight if you are on a diet and helping your body burn calories more efficiently.
At the same time, you are lowering body fat as you move and exercise. This decrease in body fat is wonderful for your overall health not only because it reduces the risk of medical problems, but also because it makes it easier for you to move your body without pain.
Athletes who play tennis on a regular basis strengthen their muscles and increase their flexibility. The natural movements of tennis are a great workout for anyone, no matter their physical fitness level, and help not only to tone muscles, but also to make the body more flexible overall.
Because players are moving in all directions and need to be able to react quickly to the location of the ball, they work out muscles that may normally be neglected in other sports.
Unlike some other sports that offer a great workout but aren't a lot of fun, or vise-versa, tennis gets your heart pumping, keeps your blood flowing, and is enjoyable.
When you play tennis you are almost constantly in motion, pushing and pulling muscles from every angle.
Many people don't even realize that they are working out when they play tennis because they have so much fun.
Researchers think that the other reason that tennis is so good for you is that it is a social sport.
This is especially beneficial for people as they get older, as social interaction helps to support mental health.
Pros and Cons of Playing Tennis
It's important before you start any sport that you make sure to consider both the pros and the cons of the sport so that you know what you are getting yourself into.
Otherwise you are likely to jump into something without proper preparation and forethought, which can be not only frustrating, but also dangerous if you get injured.
Pros
One major advantage of playing tennis is that it is a great activity that is helpful in maintaining and improving overall health.
Athletes who play tennis on a regular basis have a better chance of controlling their weight, reducing risk of diabetes and heart disease, and having a better mood and outlook on life.
Another advantage of tennis is that it offers great social benefits.
You can practice serves by yourself or even use a backboard to work on your returns, but tennis is meant to be played with other people. For some people, this is the only chance that they have during the day or during the week to spend time with others, making it even more important and beneficial.
Getting started playing tennis is generally fairly inexpensive, as it's easy to buy a lower-end racket without overspending, which makes this a great sport for athletes on a budget.
Cons
On the other hand, a clear disadvantage of tennis is the toll that it can take on your body, especially if you are playing competitively.
While a friendly game of tennis is very unlikely to cause any physical injuries, fast-paced games put players at risk of muscle strains, inflammation of the knee joint, twisting the ankle, and tennis elbow.
For this reason, players must make sure that they are playing at a level that they are physically prepared for and that they listen to their body when they need a break.
The problem that some tennis players run into is when they are advancing and want to improve their game.
Custom string jobs on rackets can get really expensive, as can improved shoes, tennis outfits, and club memberships.
While it's not expensive to play tennis with friends, if you are going to get serious about the sport, then you will need to be willing to spend a little more.
Conclusion
I hope this article will inspire you to take up the sport and have fun in the process.
I got back into it after seeing an advert for weekly community tennis in my neighbourhood.
No need to join a tennis club, no expensive monthly fees.
It's fantastic value and I have access to tennis courts in about 10 locations all for the price of £20 a year!
Can't argue with that.
I highly recommend to ease into the sport gently if you want to give it a go. Play with a friend a few times, and then think about taking things more seriously if you get the tennis bug!
There might be singles and doubles leagues you can join in your area.
Playing doubles is great fun and that's how I got back into tennis after all these years. It's a great way to meet people, and for you to find others to play with and against.
So put on some trainers, grab a racket and just go and play!
–
Graham Scott runs the website Dad Racket, where he makes a little 'noise' about tennis and parenting